Last December I came down with a mild case of the blues. This is not all that unusual or serious and the sudden drop in activity after a busy and successful ultrarunning season probably played a large part in it. All my life I've thrived on looking forward to things and without anything major on the horizon, I felt a little adrift.
All that changed one day when I came in for some lunch after catching up on some neglected yardwork. There was a message waiting for me from my friend Nate, something along the lines of "Congratulations, you lucky bastard", and at first I couldn't figure out what he was talking about. Then, I remembered that this was the day of the Hardrock Hundred entrance lottery. For a good 60 seconds I frantically pounded away on my keyboard trying to see if he meant what I hoped he meant. It was true, my name was one of the first drawn at the lottery. I was in. The most coveted hundred mile race in the country, where many apply and only a lucky 140 are drawn. My chances for this one were low, but I hit the jackpot.
I just sat back and let the news sink in for a minute but once that time was up, I was just about bouncing off the walls with excitment. My dog looked at me funny and the cats skittered off in a panic to the basement. It wasn't because of the race's exclusivity, though I did feel fortunate to be one of the lucky few, but because Hardrock is my kind of race. If I could choose only one event of any length or location to do in 2012, this would be it.
My running strength lies in the mountains. The more elevation gain and the more technical the trail - the more fun I have and the better I perform. Thousands of feet of sustained climbing, steep pitches, gnarly descents, rough techical trail, weather and navigational considerations - oh please don't throw me into the briar patch! Hardrock has all these things in droves with 33,000+ feet of climbing, plus mind blowing scenery at elevations up 14,000 to feet.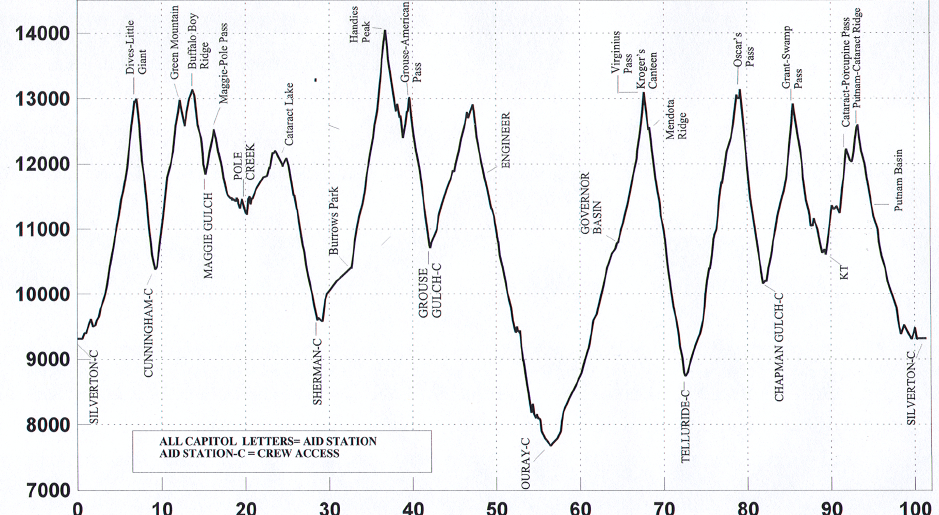 Oh yeah, the altitude... about that. This is my biggest concern, simply because unlike elevation gain and tough footing, I don't have a really good way way to prepare for it ahead of time. I can only take solace in the fact that I've been active at similar altitude in Yosemite, Leadville, and to a lesser extent, Wasatch with exactly zero issues. This is of course a whole different animal and I intend to treat it with respect.
Speaking of respect, this a race that genuinely scares me. When I look at the course map that's been on my wall for two years, with it's tighly bunched contour lines, I get a little shiver and the urge to go run some hills. Fear and respect will drive my preparation for the next five months. 40 base miles per week got me to my first hundred mile finishes, 50 base miles per week brought me into the top ten; I can't wait to see what 60-70 does. There's going to a very healthy emphasis on elevation gain over the toughest terrain the White Mountains have to offer and along those lines, I've got lots of training adventures on tap.
Of course, there's a whole lot more to preparation than just training. Frequently Hardrock seems to be a race of attrition, and people of all abilities are routinely humbled by the course. Often, as with many ultras, these mistakes are preventable, but this goes doubly for Hardrock. I will have no excuses for getting lost, blistered, or chafed because I didn't thoroughly know my equipment or study the course. Many of my nights are spent with Google Earth, maps of the San Juans, the course description, online race reports, and YouTube. There's a wealth of information here to be absorbed and it helps give me somewhere to direct my energy, as well as possibly saving me from a costly detour.
My travel and crew plans are also starting to come together nicely. I've got an enthusiastic and capable support team signed up and I know I'll be in good hands. Travel arrangements will likely involve me flying out alone two weeks before the race to spend time acclimating at altitude and relaxing, along with a good opportunity for some course recce and brain-picking of the veterans. My wife and crew will arrive a bit later and we should be good to go.
When race day comes in Silverton I plan to be as ready as can be. While certainly not the fastest or strongest person out there, I'll do things at my own pace and just see how it goes. Hopefully I'll be as lucky in the race as I was during the lottery and things will go my way. If not, I'm ready to slug it out for as long as it takes.
And now, I have a something to obsess over again.
Photo: Blake Wood